Into
Screens (and other associated devices) can be set in the section:
Screen management - Screen settings - Add screen settings
Here you will find the settings.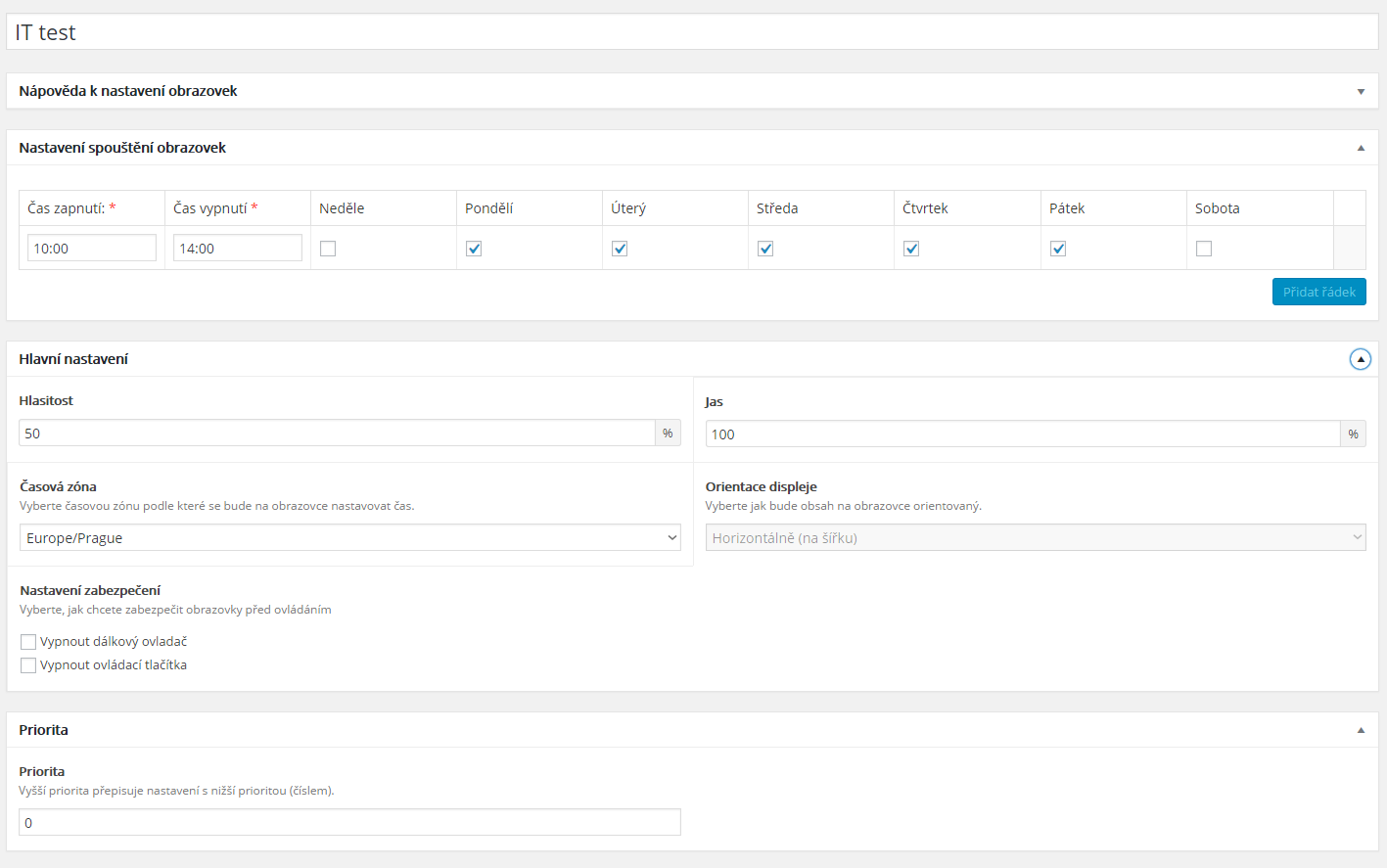 Description of each setting
1) Scheduled event type
Allows you to set one of the management actions for a given day of the week:
- restart the application
- restart the device
- restore saved content (clear all media files from the display)
- refresh
- display off (displays only, SoC stays running, screen is black)
- turn on the display

2) Screen starting settings
Here you can set the days and times the screen should be on.
The line specifies the switch-on time, switch-off time and the days on which this setting is to apply.
This setting switches the display to power-safe mode.
CAUTION: if the device is switched off using this function, it cannot be switched on "ad-hoc" remotely, it is always necessary to wait until the scheduled switch-on time.
3) Proprietary settings
This settings have similar behavior to the Screen Launcher Settings
The main difference is that this setting does not switch the device to power-safe mode, but leaves the system on
Turns off only the video output
The device can be switched on and off remotely at any time
CAUTION: When using this setting, it is necessary to set up regular daily reboots of the device using Scheduled Actions, otherwise the system may freeze.
4)
Main Settings
Volume
You can adjust the settings to turn the volume on, up, or down.
Brightness
You can adjust the settings to increase or decrease the screen brightness.
Timezone
By selecting a time zone, you determine what time the screens will be set.
Orientation
INVALID SETTINGS - the orientation is set when the display is installed.
Security Settings
To protect the screens from unauthorized editing, select which control options you want to disable.
5) Priority
Each setting has its priority. The higher the number, the higher the priority. The screen always uses the highest priority setting.
If you want to apply multiple types of settings to your screens, or change settings temporarily, you can create a higher priority setting.
Tip: Use one backup setting with priority 0 to assign this to the parent category of all screens. This will insure the minimum version of the settings.
Transferring Settings to Device
After saving the Settings, you need to transfer the settings to the terminal devices. Select the device you want to sync to and click Sync settings. The Settings Status column indicates whether the device has already acquired Settings or is out of date and needs to Sync Settings.

Po úspěšné akci se zobrazí Stav jako Aktuální: